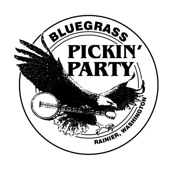 25th Annual Rainier Lions
Schedule - Times and events subject to change
Friday
Pickin' and Jamming
3-7 pm Open mic
Jamming and Pickin'
Saturday
Pickin' (Jamming optional)
11 am Roundup Days Parade
2-5 pm Bluegrass Show
6-9 pm Bluegrass Show
Pickin'and Jamming
Sunday
9:30 am Gospel Jam
If you know of a band, or you are a band member wanting to perform, please let us know.
This event is a major fundraiser for the Rainier Lions.
Performances are gratis. Band line-up is subject to change.
Volunteers welcome.
The festival is held the same weekend as the Rainier Roundup Days celebrations. Community events include a parade, bake sales, flea market, yard sales and more.
Bands performing this year include:
Stillwater Hill Bluegrass Band
Rusty Hinges
Roosevelt Road
Rainy Day Ramblers
Tried and Blue
Pinetop Pickers
Grey Sky Ramblers
and more!