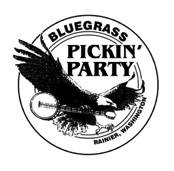 Schedule - Times and events subject to change
Friday
Pickin' and Jamming
3-7 pm Open mic
Jamming and Pickin'
Saturday
Pickin' (Jamming optional)
11 am Roundup Days Parade
2-5 pm Bluegrass Show
6-9 pm Bluegrass Show
Pickin'and Jamming
Sunday
9:30 am Gospel Jam
If you know of a band, or you are a band member wanting to perform, please let us know.
This event is a fundraiser for We Love Rainier,WA. Profits are used to benefit the community through such projects as parks, bike trails, town beautification, etc. Band performances are generously provided gratis and are subject to change.
Volunteers welcome.
The festival is held the same weekend as the Rainier Roundup Days celebrations. Community events include a parade, bake sales, flea market, yard sales and more.
Bands
Rusty Hinges
The Cowchips
Tried and Blue
The Dills Family
Band of Friends
Hardshell Harmony